Caring for our Community
With our central location and large, open spaces, we quickly recognized the important opportunity we had to support our community through the pandemic and during the re-opening of our city and province. When we were able to open our doors to the public, we offered the use of our venue to the community and to organizations who were in need of more space due to capacity limits.
Testing, Testing, 1-2-3
Supporting our community also included partnering with Dr. Lisa Barrett and the Public Health team over several months starting in November 2020, with asymptomatic COVID-19 rapid testing being offered in our Centre. Our downtown location and ample space made it easy for our community to come out and get tested, making testing part of their regular routines.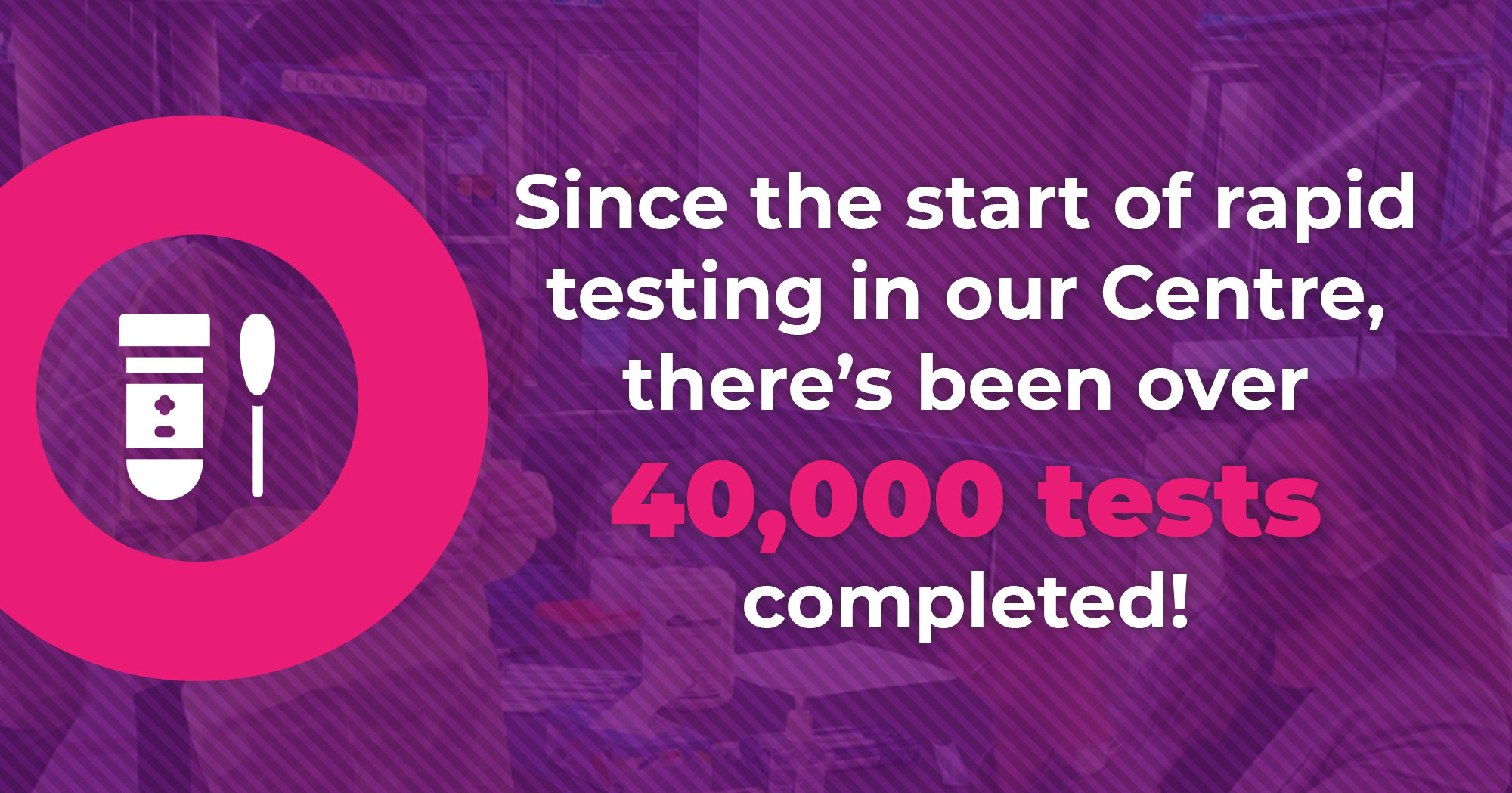 "Community led rapid testing has been an integral part of Nova Scotia's pandemic response. We are very appreciative that the Halifax Convention Centre opened their doors to welcome thousands of noses over the past 9 months. The staff at the Halifax Convention Centre have been stellar, from building event layouts behind the scenes to generating public trust and information through social media, and tirelessly greeting and motivating test site guests in long lineups; they have been community and business leaders in partnering to keep Nova Scotia safe. We were able to respond so quickly to testing demand in Wave 3 because of the Halifax Convention Centre space and commitment. Over 68,000 noses have been tested at the Halifax Convention Centre and we're still counting! Thank you for your contributions and joining us in the fight against COVID and the effort to build community!"

-Dr. Lisa Barrett, MD, PhD, FRCPC
Our team was fully committed to the health and safety of participants, with our own staff volunteering to help, and our events teams assisting Public Health with the safe entry, sanitization and exiting from the testing events. We worked diligently with the Public Health team to create eye-catching signage to draw people in to get tested. We also coordinated with them and our clients, the opportunity to offer rapid testing as an option for delegates prior to some of the larger events we hosted in our space.
Tampon Tuesday
In March, we proudly partnered with United Way Halifax for Tampon Tuesday. Workplaces, families, groups of friends, and many more, were encouraged to participate by donating menstrual products or gift cards. Our Halifax Convention Centre was proudly an official drop off site for community donations in our Argyle Atrium.
Before United Way launched their public call for donations, our staff collectively donated over 2,000 products to the cause! In total, we had over 5,000 menstrual products donated in our bin to help combat period poverty. Products were delivered to 15 local charities and were made available for women and transgender individuals in need.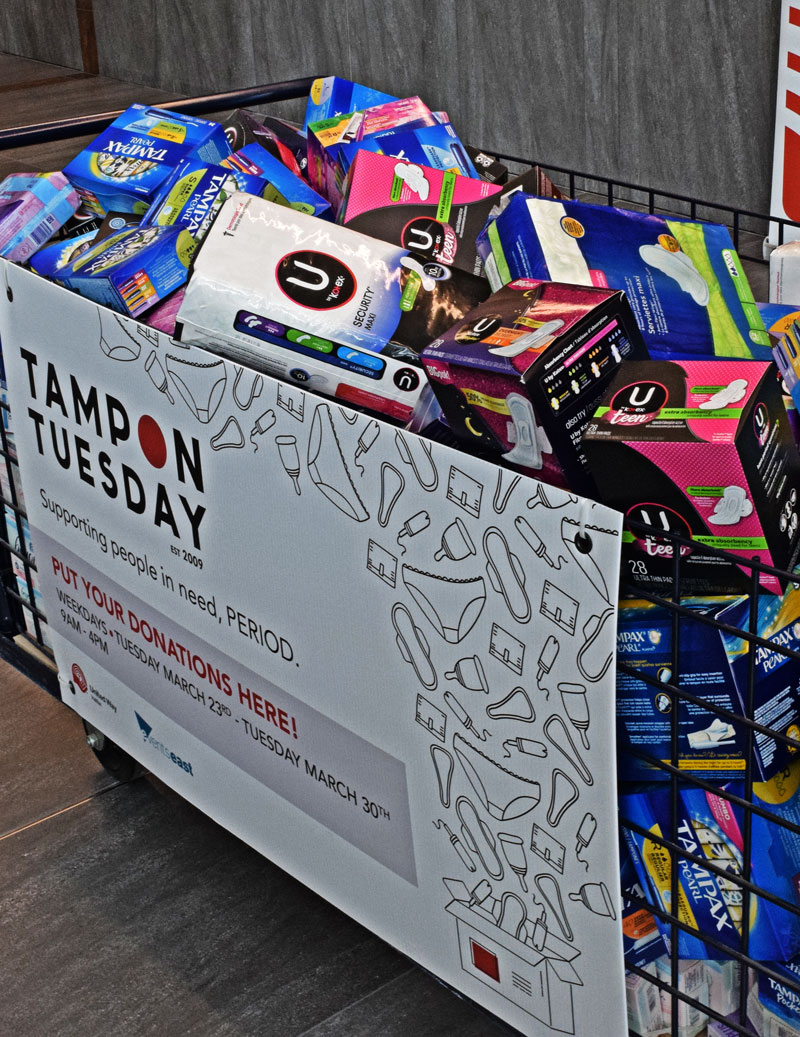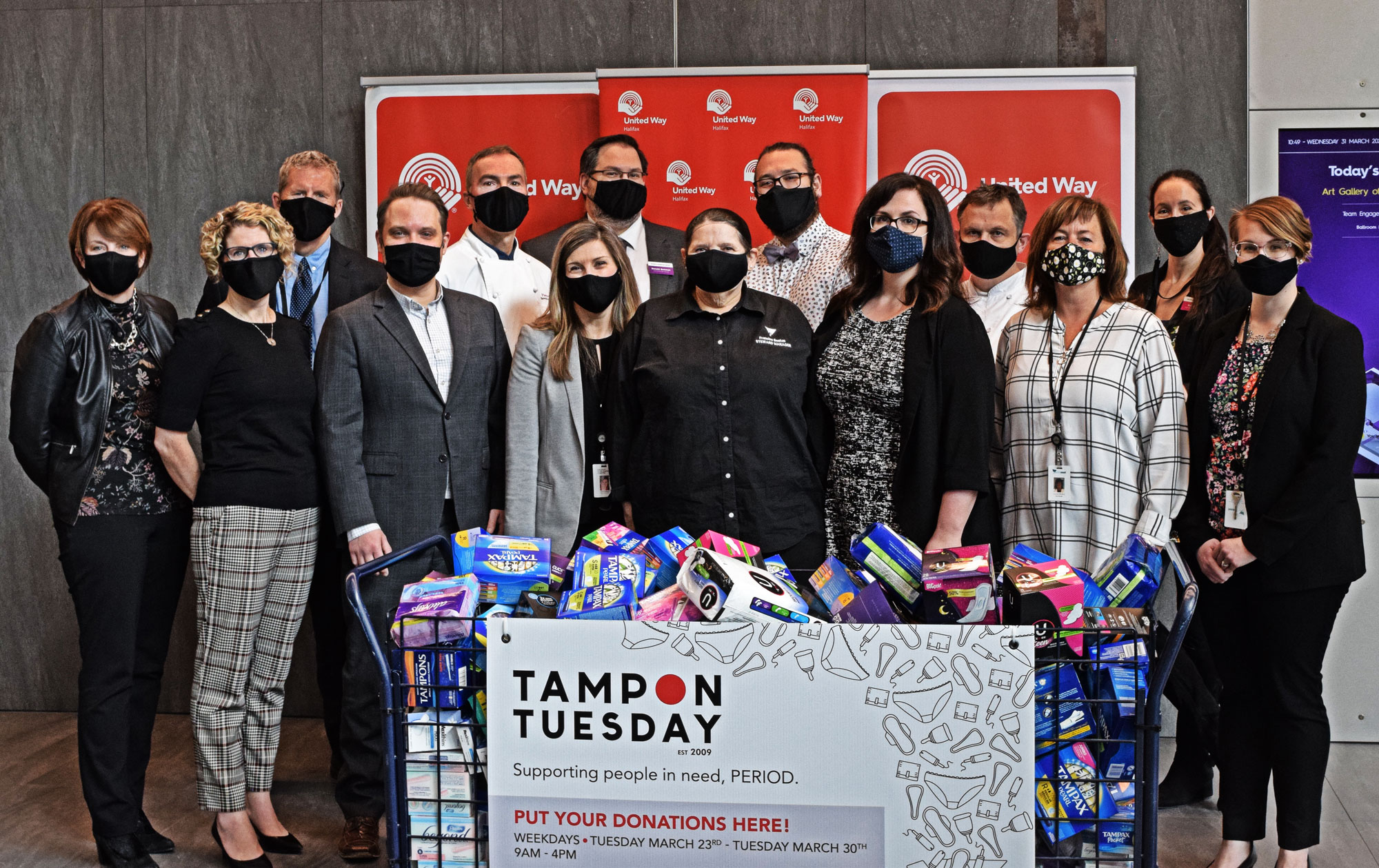 Feast of the East Part Two
We always enjoy developing fun ways to engage our community through social media and that's just what we did during the pandemic lockdown, when we turned the tables on Feast of the East with a part two!  Our original Feast of the East campaign was a video series where three event planners from across Canada chose an ingredient and issued it in the form of a challenge for our award-winning culinary team to incorporate into a dish.
For our second edition of Feast of the East we turned the tables. Our culinary team challenged our community to create a recipe in their kitchens, at home, by infusing an ingredient chosen by a member of our team! The ingredients were all fresh and easy to source so participants could get them locally at a farmer's market or grocery store, making it easy for them to take part.
We had participants take part in the four challenges, putting their cooking skills to the test and at the end of each challenge, they uploaded a photo of their creation to social media. It was wonderful to have our culinary team connecting with our local community and to show-off their incredible culinary expertise and hospitality!